Whether you're a first-time cannabis consumer or a seasoned pro, there's something to be said for convenience. Pre rolled joints are the perfect solution when you want to enjoy cannabis without the hassle of having to roll a joint yourself. Not only is this method quick and easy, but it also guarantees that you'll get a quality smoke every time with a consistent size.
Supremium pre rolls take pride in offering the finest pre rolled joints on the market. Our joints are made with top-quality flower with no bottom or shake and come in a variety of popular strains, ensuring that there's something for everyone. Plus, Supremium ensures each joint is rolled to perfection, delivering an unforgettable smoking experience. If you're looking for the best pre rolled joints around, look no further than the Supremium brand.
What Are Supremium Pre Rolled Joints And How Are They Different From Other Brands On The Market?
Supremium pre rolls are made in BC from the best BC bud. You can tell Supremium by it's eye catching logo and a wider variety of strains than other brands. Additionally, Supremium comes in discrete and handy packs and tubes for the ultimate convenience and portability. Supremium also have special, small batch craft cannabis drops in the Gold line.
Fun Benefit Of Using Supremium Pre Rolled Joints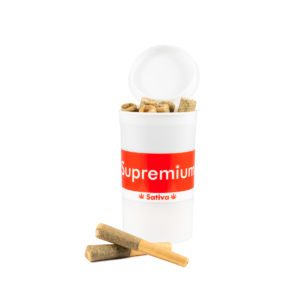 Our new pre roll shorties have become really popular! With Supremium Shorties Pre-roll tubes, you get a convenient and portable 12 joint tube that weighs 0.25 grams each! These small cones make it easy to toke on the go for busy, active people (or sitting at home!).
Supremium's new Sleek Press 'N Pull design is child resistant technology so we keep our product safe, protecting children from accessing marijuana products altogether if they shouldn't be putting anything stronger than kisses on their lips; however adults like yourself will love this handy little container when out doing errands or simply want something handy to keep your pre rolled joints organized.